Fire & Security Solutions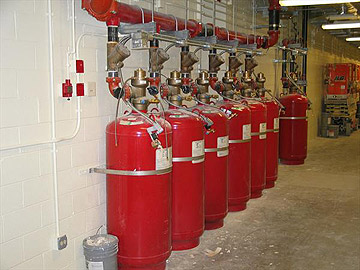 FM-200® is the clear choice for a fast, clean fire protection agent. Introduced as a Halon replacement in 1993, it quickly gained acceptance as the world's leading clean gaseous fire extinguishing agent. When it comes to fire protection, there can be no compromise.
FM-200® extinguishes fire via a combination of chemically based fire inhibition and cooling. It is environmentally acceptable, safe to use with sensitive equipment, fast-acting, efficient and effective.
Our FM-200® fire suppression Solution works hand-in-hand with state-of-the-art control and detection components to identify and extinguish fires, long before substantial fire damage can occur. Without changing your current control panel or detection systems, an existing system can be easily converted to FM-200®
When it comes to fire protection there can be no compromise.
In April 2002, Ged Brock – Great Lakes Chemical Company, USA; patented manufacturers, FM200 and Nick Grant – Macron UK Ltd; leading distributor of FM200gas in Africa, at a Halon Replacement and FM200 seminar, gave public credence to HILTRON a subsidiary of LIGHTNING NETWORKS as the authorized representative for Macron systems and Official Fill Rig operator having fulfilled all quality and capability requirements for same.
– contact us today to learn more about our FM-200 system solutions.